One of my favorite places to spend free time is downtown Dallas. The sights, sounds and places to visit are energizing and a great escape from daily suburb life. Here is first installment of my guide to downtown Dallas, and some of my favorite things to see, do, and eat!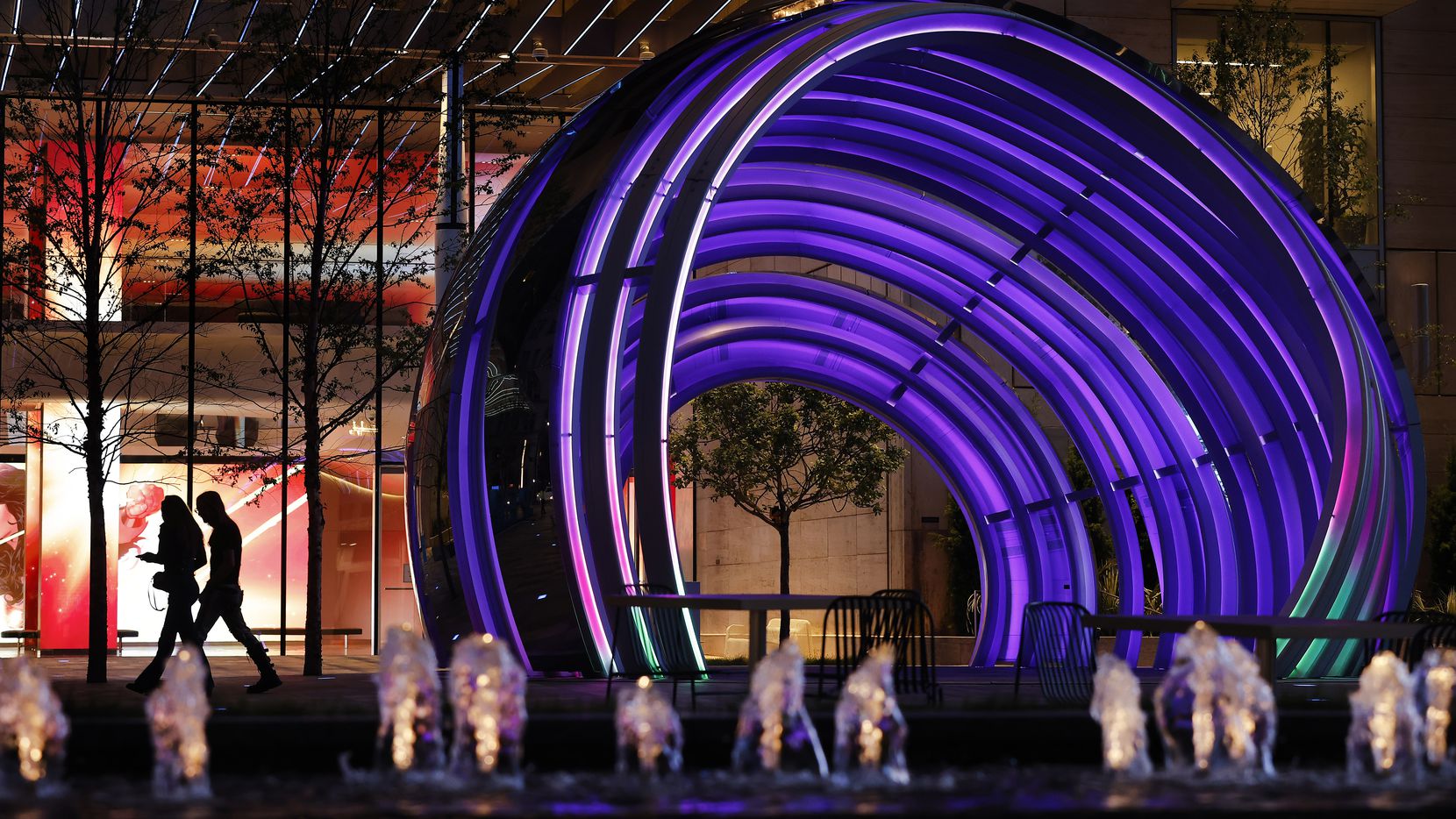 #ToDoInDallas - The AT&T Discovery District has a fabulous plaza with plenty of green space to enjoy and also hosts live music and cultural events for the whole family. One of my recent favorites was the Cinco De Mayo celebration with St. Patty's coming in a close second. AT&T offers the AT&T Experience Store with an array of immersive experiences and the AT&T Experience Studio, which hosts rotating interactive pop-up installations from a variety of media, television, and cinema. Visitors are welcome to step into the modern media lobby at AT&T global headquarters to experience a one-of-a-kind fusion of architecture, multimedia content and technology.
#ToSeeInDallas - "The Globe" is also a must see! It is covered with a mirrored surface so the structure reflects the surrounding buildings and people around it. Venture inside and you'll discover the immersive visuals and soundscape of the Globe, which use an array of sensors that allow the content to react in real time based on each guest's location within the structure.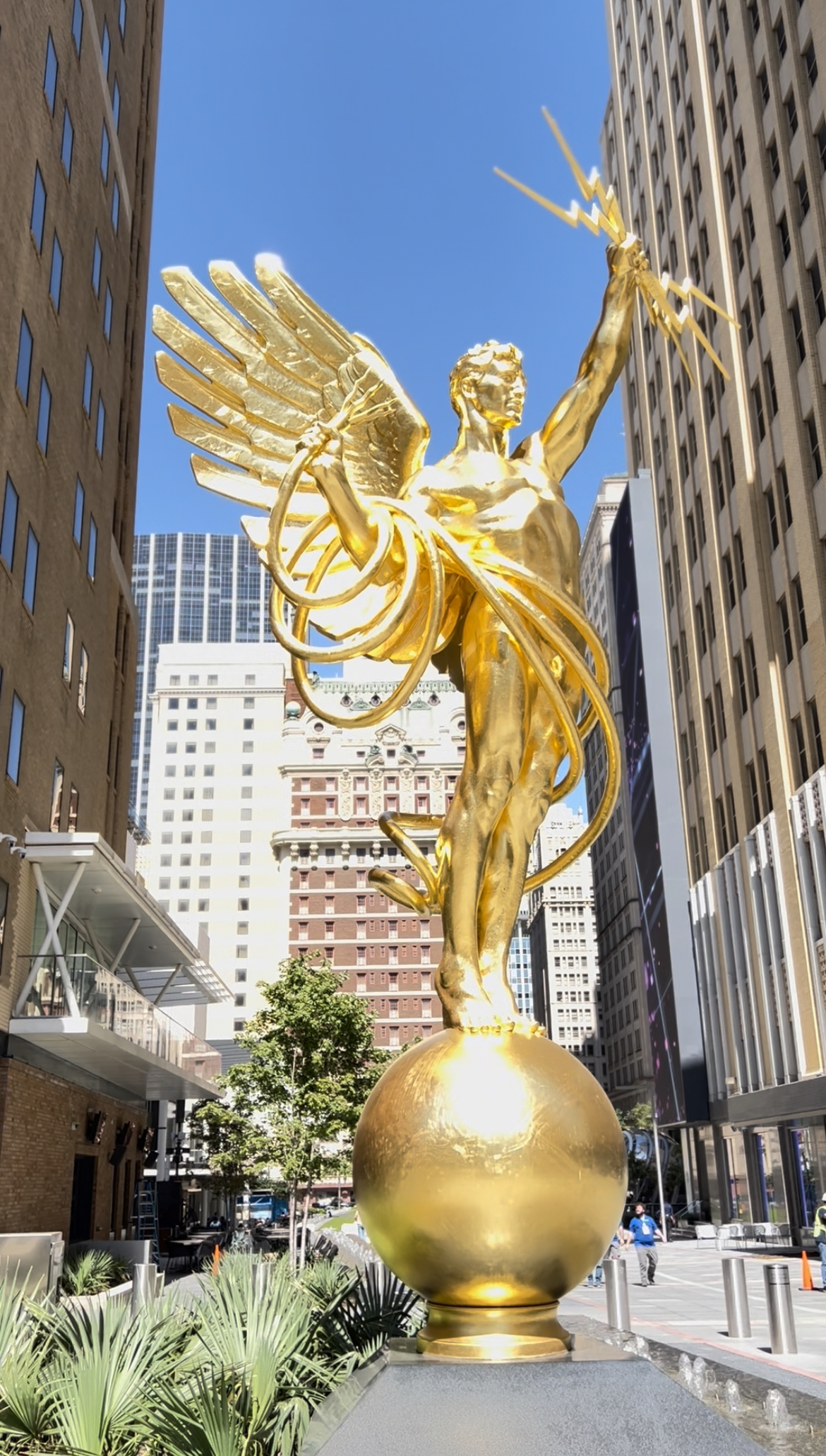 The 104-ft-tall "Media Wall" wraps the building at the corner of Akard and Jackson Streets. Featuring the country's most advanced media technology, it brings digital art and media to life in staggering detail. Post a selfie with Golden Boy; an iconic, century-old statue who had a very tough life (read if you enjoy history) before making his way to Dallas.
#EatAndDrinkInDallas - When it comes to food and drink, check out "The Exchange" which hosts 16 places to eat and 2 full bars in an open food court. The best part about The Exchange is there is something for everyone, so my better half can get his Mediterranean fix from Babushi and I can have my favorite snack, a pizza slice from Zalat. Everything's better when it's paired with a drink from Double Tap. But be careful! On-tap-cocktails like "Little Black Submarines'' are quite strong and will sneak up on you. If you have the kids with you, stop by the cake and ice cream jar vending machine by La Duni. My choice for happy hour is Jaxon Beer Garden which offers an ongoing calendar of events that include live music on an outdoor stage.
If you are visiting Dallas, the AT&T Discovery District is on my must visit list! If you live in the suburbs, it is a great place for date night. Not only that, there are great places to live just steps from all that AT&T has to offer. Take a look at properties near Discovery District that are available now!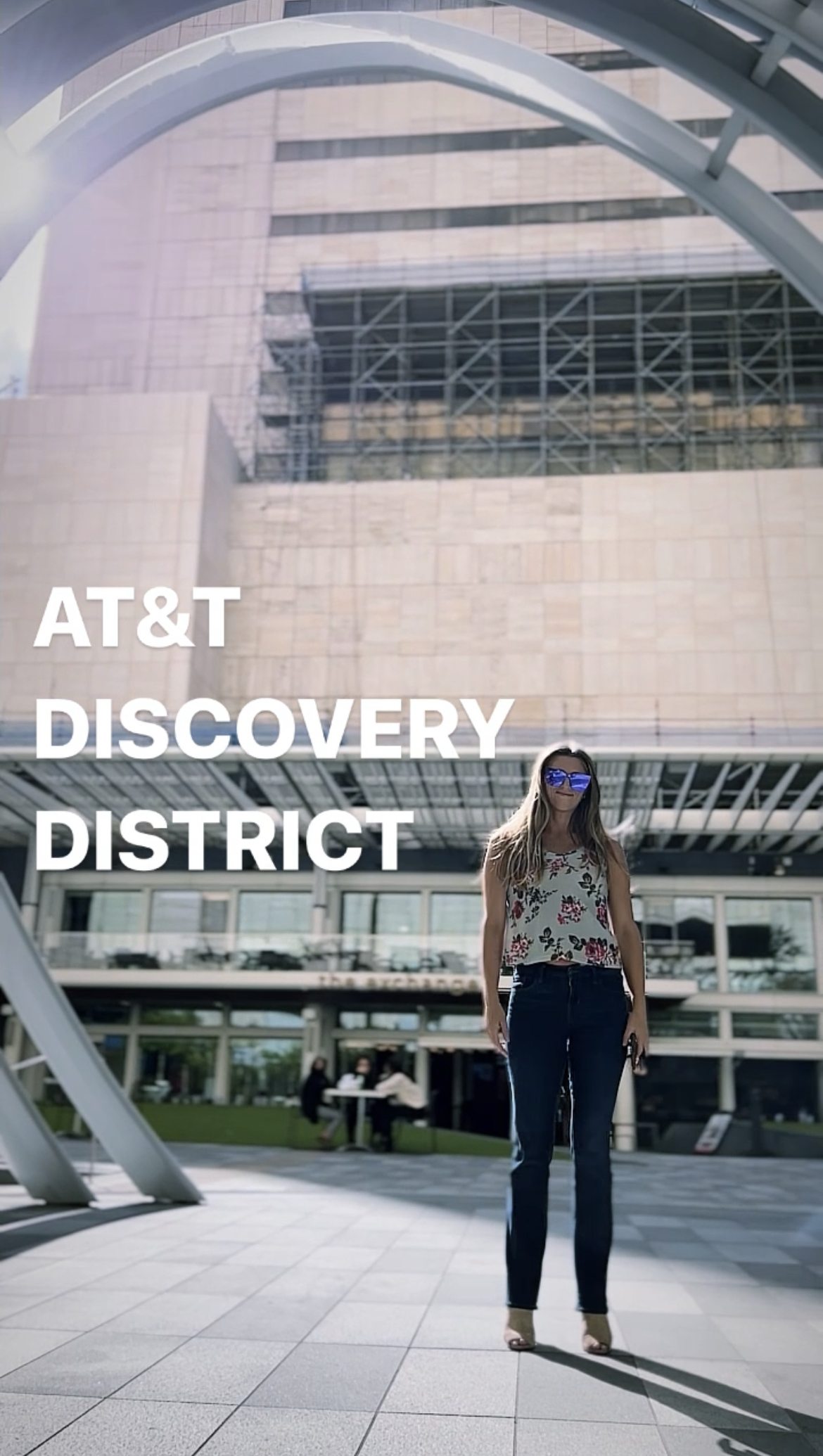 In This Post

AT&T Top Picks To Do
https://discoverydistrict.att.com/things-to-do-in-dallas/
Float4 brings the Globe to life in new AT&T Discovery District Globe immersive experience
https://float4.com/en/projects/the-globe-interactive-installation-at-att-discovery-district/
SNA Displays "Media Wall at AT&T Discovery District"
https://snadisplays.com/projects/att-discovery-district-media-wall/
Mr. LocalHistory AT&T Golden Boy Has Had A Tough Life
https://www.mrlocalhistory.org/goldenboy/
The Exchange - https://discoverydistrict.att.com/things-to-do-in-dallas/
Baboushi - https://www.instagram.com/baboushdallas/
Zalat - https://theexchangehall.com/zalat-pizza/
Double Tap - https://theexchangehall.com/vendor-double-tap/
La Duni - https://theexchangehall.com/la-duni/
Jaxon Beer Garden - https://jaxonbeergarden.com/
Events Calendar - https://jaxonbeergarden.com/events